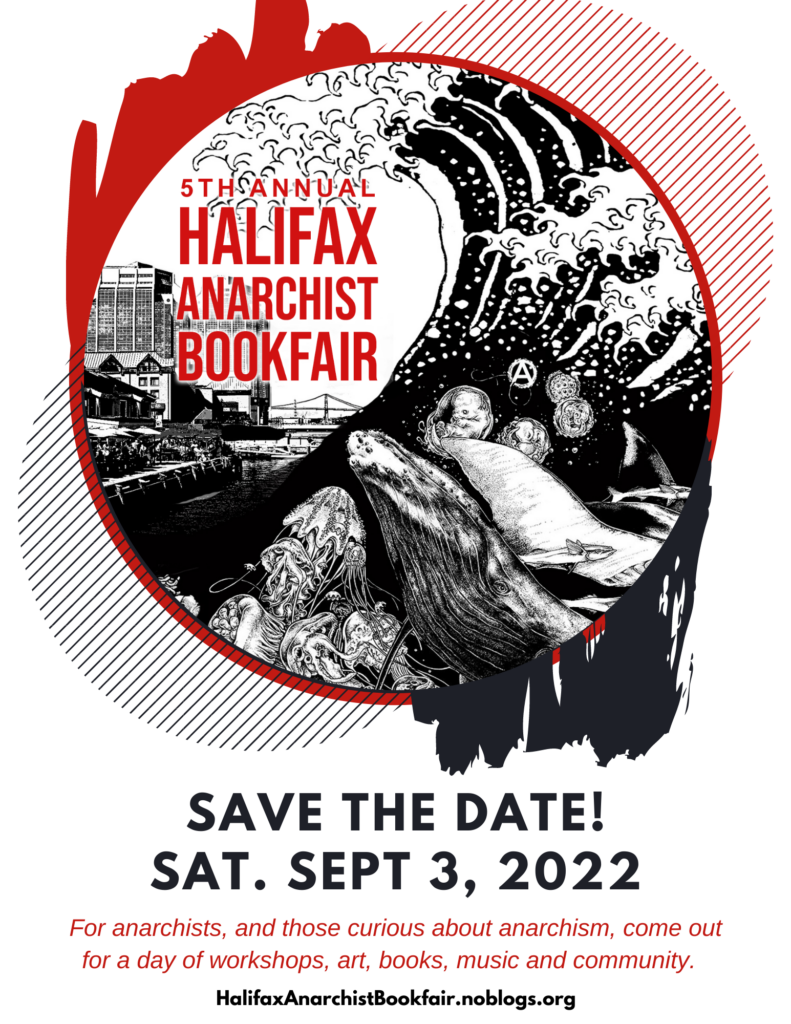 Save the date! Sept 3 (Labour Day Weekend) will be our next bookfair (raindate: Sept 4).
Info on our last bookfair:  the 4th Annual Halifax Anarchist Bookfair
September 4th, 2021
FREE at  5381 Spring Garden Rd ("The Old Library"),
Kjipuktuk, Unceded Mi'kmaq territory
We will not go back to "normal". The pandemic has only intensified social control and surveillance, capitalism and colonialism, with those in power deepening their pockets through intensified industrial extraction, skyrocketing housing prices, and intolerable working conditions. While the defenders of this racist colonial system look out for their own interests, we know that we are the ones who must look out for and care for each other. The roots of ecological destruction, poverty, white supremacy, colonialism, police violence, patriarchy, etc lie within the construct of authority itself. Anarchism helps us to understand the roots of these systems of power, articulate our desires for self-determination, and dream of a world where all are free. It is crucial in these times that we find each other, create space to remember what liberation can feel like, share our grief and rage, and bring collective energy into our struggles.
The bookfair is for anarchists, those curious about anarchism, book lovers, and anyone simply questioning authority. It will feature publishers and book distributors, vendors, artists, and facilitators from all over North America/Turtle Island; the day/weekend will include workshops, discussions, kids' activities, art exhibits, parties and more!
To get in touch: halifaxanarchistbookfair@riseup.net
For a more Anarchic Halifax, and a freer, more joyful world (A)
Poster Artwork by Gabe Squalor
---
Check out our awesome list of tablers for 2021!
PM Press
Kersblebedeb
Fernwood Publishing
Submedia
Venus Envy
Sabordage
Lost Cause Distro
Make Total Distro
Crimethinc
CK nosun
Mayworks
Beehive Collective
Radstorm
Tayla Fern Paul
Bria Makes Things
IWW Kjipuktuk-Halifax
Clementine Morrigan
Books Beyond Bars