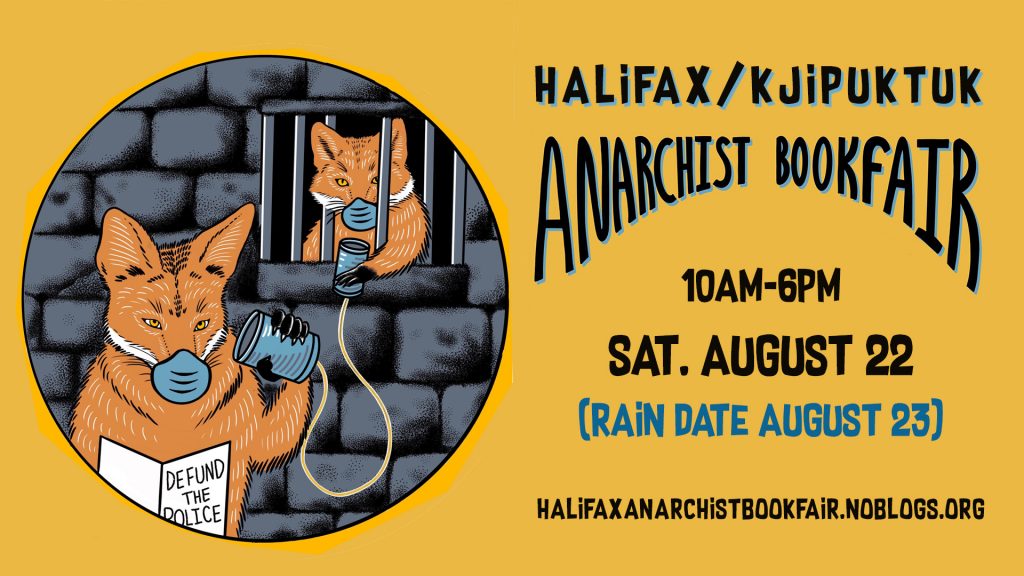 ***please read our covid safety protocol (at the bottom) before attending our event***
We are going ahead with the bookfair outdoors on Saturday despite the small chance of light rain for a few hours of the afternoon.
Please bring a lawn chair, raincoat and blanket to sit on if you can.
WHERE: 5381 Spring Garden Rd, Halifax
WHEN: August 22, 2020 10am-6pm
In the spirit of rebellion and social transformation, we invite you to come to the 3rd Annual Halifax Anarchist Bookfair.
An uprising against white supremacy is sweeping the globe. Police departments are being defunded, statues are being toppled, and people are defying those in power en masse. People are re-orienting their lives around affinity groups and social bubbles, building huge networks of mutual aid, exploring transformative alternatives to police and the State. Patience for reform is wearing thin and revolution is in the air.
But State-sanctioned violence is only increasing. Power and resources are more concentrated than ever. A Pandemic has upended our lives and shattered our interconnected world into fragments with sharp edges or bubbles we dare not pop. Within our enclaves the pandemic is still illuminating unequal access to dignity, health and life. Ecological collapse is still imminent, so too is economic collapse, with societal collapse looming not too far behind. It is undeniable to everyone now that we live in a time of disaster, but for many Black and Indigenous peoples the disaster has been here for well over 500 years already.
2020 offers us the clearest fork in the road we'll ever arrive at. In one direction we find mutual aid, transformative justice, community empowerment, social and economic regeneration, decolonization and reparations, sustainable systems, loving solidarity, and a life worth living. In the other direction we find disaster capitalism, police and prisons, authoritarian control, social abandonment, intensified systemic racism, ecosystem collapse, toxic individualism, disease, death, and extinction.
This year's bookfair will be focused on principles of mutual aid, abolition and transformative justice.
The events of this year have brought the practices and principles of mutual aid and abolition into mainstream discourse. Millions of people are exploring these politics, many for the first time, and so it is of utmost importance that we converge to discuss these ideas, share relevant texts, build relationships and our capacities in struggle together, and learn to embody the changes we are fighting for.
There is a cop inside of our hearts and minds that we need to contend with just as much as the cops who patrol our streets. Our fight for abolition illuminates the work we have to do to transform ourselves, our communities, and our whole world in order to live without police and prisons.
Come out whether you're a seasoned anarchist, excited to learn about anarchism, a curious skeptic, a lover of books, or if you are simply becoming disillusioned with capitalism and the government. The day will be filled with book vendors, artists, workshops and collaborative spaces.
Due to the COVID-19 pandemic, we will be holding the bookfair in an outdoor space. We will announce the exact location closer to the date.
The bookfair will include tables of anti-authoritarian art, books and zines; a full day of workshops, and a space for informal meet-ups.
Come with your friends, family, ideas, inspirations, projects and curiousity.
If you would like to request a table, send us an email: halifaxanarchistbookfair@riseup.net
*COVID-19 safety:
– We ask that participants wear masks and respect social distancing as much as possible.
– We will make hand sanitizer available.
– If you are in a province outside the Atlantic bubble, we ask that you do not come here for this event.
Some accessibility notes: The event is outside in an area that is wheelchair accessible. The closest bathrooms are just up the street at the Central Library, where there are gender neutral and wheelchair accessible washrooms. Simultaneous note-taking is available upon request. Childcare will be available on site.
For a more Anarchic Halifax, and a freer, more joyful, and just world!
Poster Artwork by Gabe Squalor